"At WCLAC the protection and promotion of Palestinian women's human rights is work of the heart. Inspired by Maha Abu-Dayyeh we will maintain the legacy of our Centre in empowering Palestinian women to enjoy their rights with dignity and convey our strong convictions that women's rights are human rights"
Photo Credit: Miriam Deprez
WOMEN'S CENTRE FOR LEGAL AID AND COUNSELLING (WCLAC)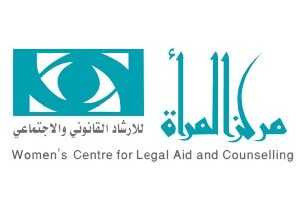 WCLAC is a not-for-profit, non-governmental organization that seeks to develop a democratic Palestinian society based on the principles of gender equality and social justice between men and women.
Established in Jerusalem in 1991, the organization has special consultative status with the UN Economic and Social Council (ECOSOC). By forging a feminist vision based on equality and social justice, WCLAC plays a prominent role in addressing gender-based violence in Palestinian society in both the public and private spheres. Founded by Maha Abu-Dayyeh and now led by Randa Siniora, WCLAC is active in East Jerusalem, all over the West Bank in areas such as Ramallah, Hebron, Bethlehem, Jericho, as well as the Gaza Strip.
WCLAC has three core program units:
The Service Unit provides essential social and legal services to Palestinian women as well as offering emergency protection from gender-based violence.
The Capacity-building Unit works with Palestinian volunteers all over the West Bank giving them tools to become advocates for women's rights within their own communities.
The Advocacy Unit concentrates on change at the legislative and institutional level (lobbying and documentation).
From 2009 to 2012 WCLAC developed a national referral framework of protocols to guide service providers who assist women victims of violence to help them navigate governmental and civil social, legal and health services in the West Bank. WCLAC's Women's Voices Project trains female fieldworkers researching the gender-specific impact of human rights breaches in Gaza and West Bank (an extensive resource of testimonies and legal analysis is available in the Women's Voices section of WCLAC's website). With the outbreak of COVID-19 WCLAC expanded its helpline, referral services and kept its shelter open to handle the sudden increase in incidents of domestic violence. It also rolled out media campaigns to prevent violence against women.
Maha Abu-Dayyeh and the organization have received numerous international human rights and leadership awards. WCLAC is a member of the Euro-Mediterranean Human Rights Network, the SALMA Network (focuses on violence against women), the AISHA Network (chiefly secular feminist groups in the Middle East and North Africa), the Council of Palestinian Human Rights Networks, and the NGO Forum on Violence Against Women.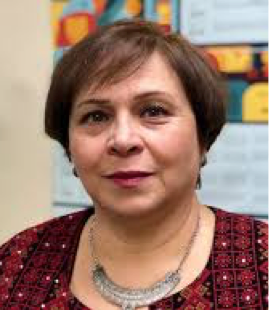 Randa Siniora
WCLAC General Director
Mission
The Women's Centre for Legal Aid and Counselling works to reverse discrimination against Palestinian women and promote their social and legal rights under international human rights standards.
ONE WAITING ROOM, MANY LIVES
Aisha, age 50, a mother and grandmother, was divorced by her rich husband because he wanted a younger wife. The governor and police ruled she must leave her home because it was registered in her husband's name; compensation legally allotted her was not enough to survive. She came to WCLAC, which shamed the husband and won her justice.