Dr. Denis Mukwege wins Nobel Peace Prize
I am so delighted to share the news with you that Dr. Denis Mukwege, Medical Director of Panzi Hospital in the Congo, has won the Nobel Peace Prize, together with Nadia Murad, a Yazidi survivor/activist from Iraq. Both of these newly awarded Nobel laureates have come close to death several times, and their determination to speak out against the use of sexual violence as a weapon of war is an inspiring call to conscience.
We are honored to partner with Panzi Foundation and to have supported Dr. Denis Mukwege and his life-saving work. We congratulate him and Nadia Murad on this well deserved recognition of their contribution to humanity.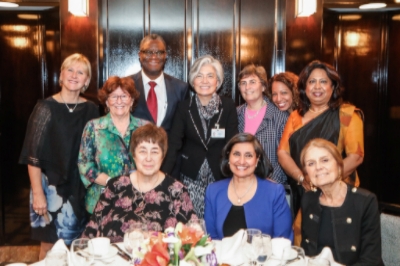 Back Row (Left to Right): Margot Wallstrom (Former-Deputy Prime Minister of Sweden) , Louise Arbour (UN Special Representative for International Migration), Dr. Denis Mukwege (Founder, Panzi Hospital in Bukavu), Kyung-wha Kang (Foreign Minister of South Korea), Jessica Neuwirth (Director, Donor Direct Action), Laila Bourhil (Special Assistant, Political Affairs, UN), Pramila Patten (SRSG- Sexual Violence)
Front Row (Left to Right): Felice Gaer (Vice-Chair UN Committee Against Torture), Bani Dugal (Vice Chair, Steering Committee NGO Working Group), Gloria Steinem (Feminist Political Activist) 
Sincerely,
Jessica Neuwirth
Director