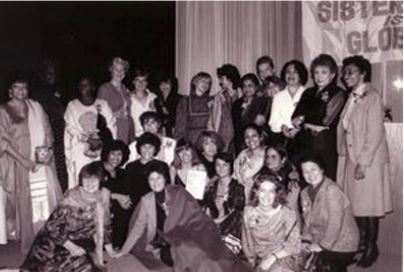 The founding of The Sisterhood Is Global Institute
Dear sisters and friends,
I want to share with you my delight at celebrating the 10th Anniversary of Donor Direct Action. DDA is the primary initiative of The Sisterhood is Global Institute.
The Institute itself is currently in its 36th year—hard to imagine, since it seems only yesterday that Simone de Beauvoir and I, together with women from 80 nations (primarily the global south), all contributors to my now classic anthology Sisterhood is Global, convened to found it. I well remember those founding meetings, where we talked into the wee hours, made "click!" connections of recognition in our lives, argued vociferously, laughed, wept, embraced, ate and drank and even sang and danced. We all know that founding institutions is hard enough, but sustaining them is where the real crunch sets in. That SIGI has not only stayed alive but persisted in its mission as the think tank of the global women's movement, dedicated to the freeing and empowering of all female human beings, and also has progressed—well, that's nothing short of triumph.
The progression has taken the happy form of partnering with its visionary yet practical fundraising arm, Donor Direct Action. DDA has had extraordinary success—to date, $3.5 million raised for front-line women's rights organizations around the world, and with its unique program of directly networking donors with recipient partners. These two elements focus precisely on the women's groups and organizations that the Institute has always prioritized.
I want to express my personal gratitude to Jessica Neuwirth for this partnership, and to the Donor Direct Action team. DDA has made a concrete difference for the better in women's lives, and beyond that—toward a transformative society. For that and so much more I celebrate this anniversary. I hope you join us with a contribution for this ground-breaking alliance. It will save women's lives—and it will change yours.
In sisterhood and friendship,
Robin Morgan
President, The Sisterhood is Global Institute