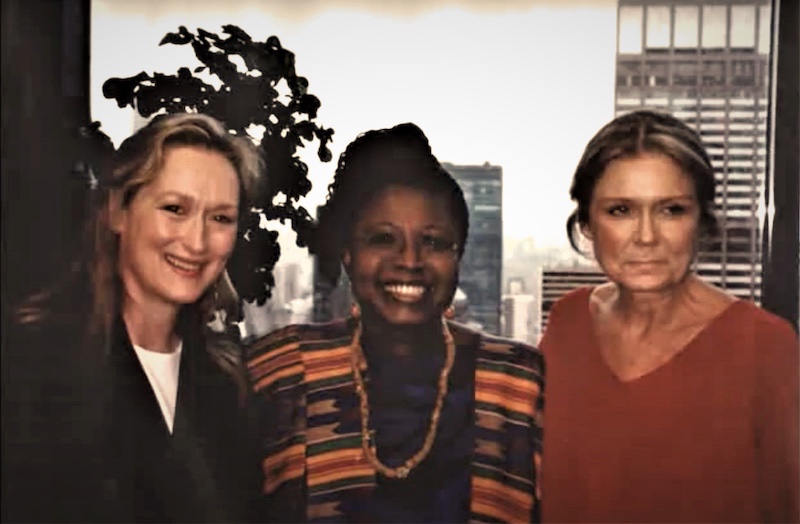 Efua Dorkenoo (1949-2014), shown here with Meryl Streep and Gloria Steinem, was one of the visionary founders of the movement to end FGM
Today is International Day of Zero Tolerance for Female Genital Mutilation (FGM), and we want to celebrate the life-changing work done by the grantees of our Efua Dorkenoo Fund to End FGM in Burkina Faso, The Gambia, Kenya, Sierra Leone, and Somalia. Over the years these fearless grassroots women's groups have been on the frontline in the fight against FGM. They are the driving force behind the change in their communities. That change is happening steadily, and much progress has been made in the past decades. Yet FGM continues and has even accelerated during the COVID-19 lockdowns. Parents have taken advantage of their daughters being home and away from school to get their girls cut, in many countries in defiance of the laws banning FGM. This spike in the practice, in addition to all other setbacks caused by the pandemic, has made work very challenging for our grantees who continue to fight on the frontlines.
We truly believe that female genital mutilation can be eradicated altogether if we support and strengthen grassroots women's rights activists and trust in their judgment and their ability to change their communities. With your support, we can continue to help our partners in their fight against this brutal practice. Please take a moment to think about the millions of girls whose lives are changed forever by genital mutilation.
Thank you.
Sincerely,
Jarai Sabally
Program Director