FOR IMMEDIATE RELEASE, September 18th 2018

Suheyra Qorane Farah and her sister Zamzam underwent female genital mutilation (FGM) on August 29th. The procedure took place in their home in Tuurdibi, a small village in Puntland, Somalia, near the border of Ethiopia. They bled profusely and within a week both had fallen into a coma. At this point they were brought to hospital in nearby Galdogob. Zamzam's condition improved, but Suheyra's worsened. She was diagnosed with tetanus and died on September 17th.
This is the third confirmed death of a girl caused by FGM in the Puntland region in less than a week and follows sisters Aasiyo Farah Abdi Warsame, 10, and Khadijo Farah Abdi Warsame, 11, who died on September 11th after bleeding non stop for 24 hours (Read more about their story at CNN and NPR). They were cut just across the Ethiopian border where FGM has been illegal since 2004.
"How many more girls have to die from FGM before the government takes action?"
In late July, following the death of yet another girl, Deeqa Dahir Nuur, 10, the Somali federal government stated that it would bring the first ever FGM prosecution in the country. It is unclear it has done anything since. Although related laws exist on child protection, FGM is not specifically illegal in Somalia. Bans have been drafted at both regional level in the semi-autonomous state of Puntland and at federal level.
"These are extremely heartbreaking moments for us. It is my hope that these latest deaths will not turn into mere statistics like before," said Hawa Aden Mohamed, Executive Director of The Galkayo Center in Puntland, Somalia. The Galkayo Center has been working to end FGM in the region since 1999. "We will continue to engage in the hope that the lip service will stop and some action will be taken. There seems to be reluctance in discussing and passing the anti-FGM law in Puntland, which was recently approved by the cabinet. We hope that these deaths will serve as a wake up call for those responsible to see the need to have the law in place to protect girls from this heinous practice. These cases confirm what we have been saying all along, that FGM kills. This happens quite often but people have chosen to turn a blind eye."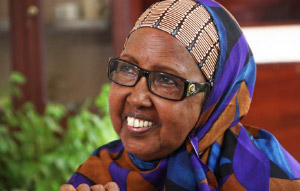 Hawa Aden Mohamed, who founded the Galkayo Center, is herself a survivor of FGM. Her own sister died after undergoing it. The Galkayo Center provides education to girls and has often undertaken emergency interventions to help girls cut from FGM who are in urgent need of medical attention. FGM involves the partial or total removal of the external female genitalia for non-medical reasons. According to UNICEF it has affected at least 200 million women globally and Somalia has the highest prevalence of FGM in the world at 98%.
Donor Direct Action raises funds to support the work of The Galkayo Center and runs the Efua Dorkenoo Fund for frontline anti-FGM groups. "How many more girls have to die from FGM before the government takes action," said Jessica Neuwirth, founder of Donor Direct Action. "Countless girls have already lost their lives as a result of FGM and for countless others there are lifelong harmful consequences. Organizations like the Galkayo Center are having an impact through their work, but funding to front line groups working to end FGM needs to be drastically increased if we are to end this extreme subjugation of women and girls in this generation."