On March 13th, two university students were sexually abused and murdered in Chosica, Peru, highlighting the urgent need for action to end violence against women and girls.
According to reports the two young women were out celebrating a birthday when they were approached by a group of men who offered to drive them home. Instead, they were taken to a remote location where they were sexually assaulted and murdered. The heinous nature of this crime has shocked and saddened the people of Peru and serves as a reminder of the urgent need to address violence against women in the country.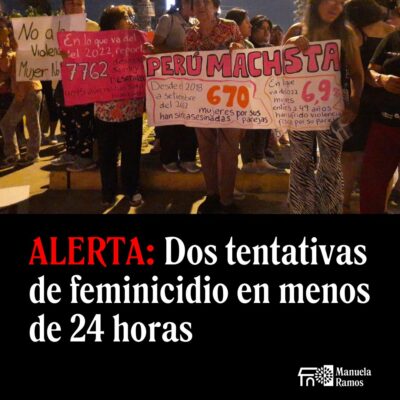 We are writing to you today to bring your attention to the alarming number of femicide cases in Peru. So far this year in Peru, at least 30 women have been murdered by intimate partners. This is a staggering statistic that emphasizes the importance of supporting organizations like Manuela Ramos.
Manuela Ramos is dedicated to ending femicide and promoting gender equality in Peru. They combat the macho society that normalizes violence against women and provide support to women who have experienced violence. Their work has been making a real difference in the lives of women in Peru. Across social media and in the streets Manuela Ramos are demanding justice for the two young university students and all the other women of Peru who have been subjected to violence, erasure, and misogyny.
But they can't do it alone. The COVID-19 pandemic has only exacerbated the issue of femicide, and the lack of government resources and support for women's rights organizations in Peru has made it difficult to address this crisis effectively.
Please consider donating today to support Manuela Ramos and help end femicide in Peru. Your contribution can make a real difference. You can also join the fight for justice online by using their hashtag: #PerúMachista
Thank you for being a part of this urgent fight.
Sincerely,
Jessica Neuwirth
Director